About us
OUR MISSION
AERA is leading the luxury footwear industry forward by placing equal value on product, people and the planet.
With timeless designs that are ethically crafted from certified vegan materials, we strive to make sustainability the new normal. Not only are we neutralizing our environmental impact, but we are also going one step further by offsetting it by 110%. Ultimately, we created AERA because we believe doing good is as important as looking good.
OUR MANIFESTO
We believe that Luxury is not a new pair of shoes. Luxury is clean water and fresh air. It's not about how much you have, but how much you give back. It's considering people and the planet when making product. It's raising the bar, not just for yourself, but for others. It's about honoring traditions while blazing new trails. It's about looking forward, not back. It's about making sure every step you take, has as small an environmental impact as possible. Because real luxury is leaving the world better than you found it.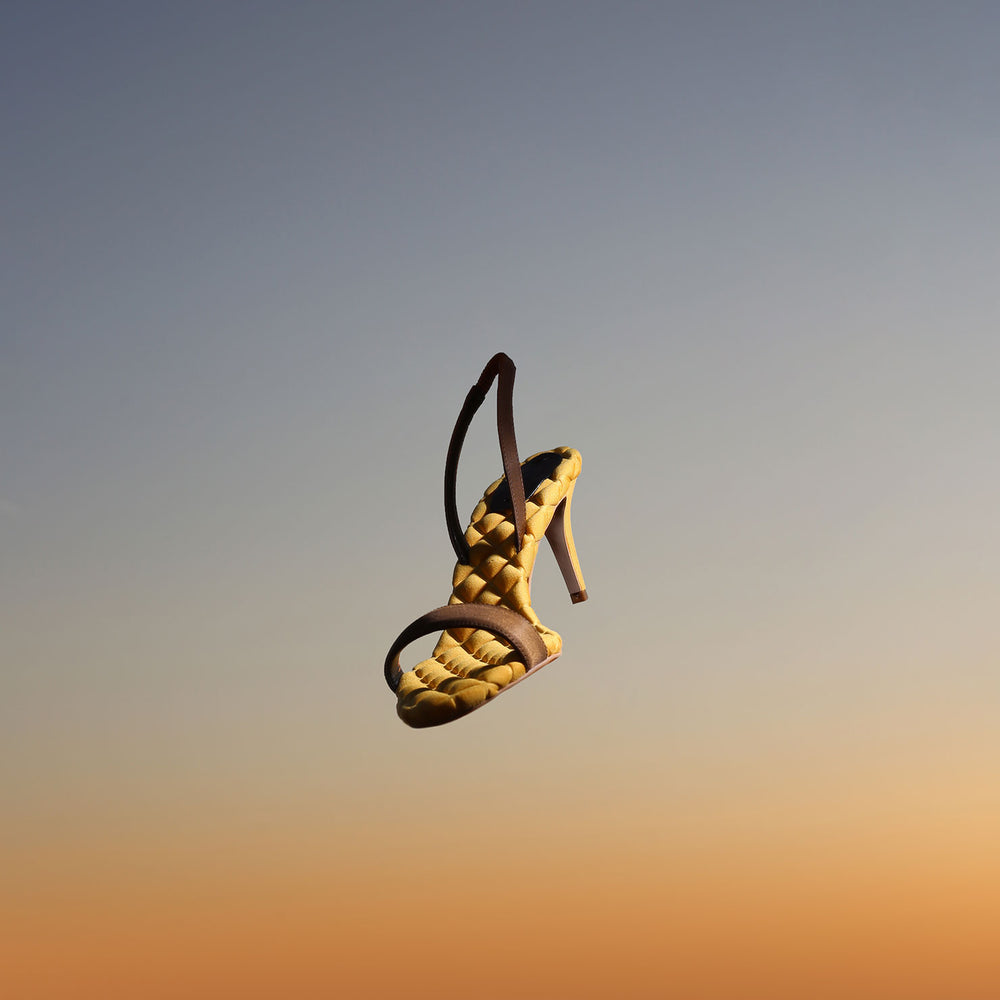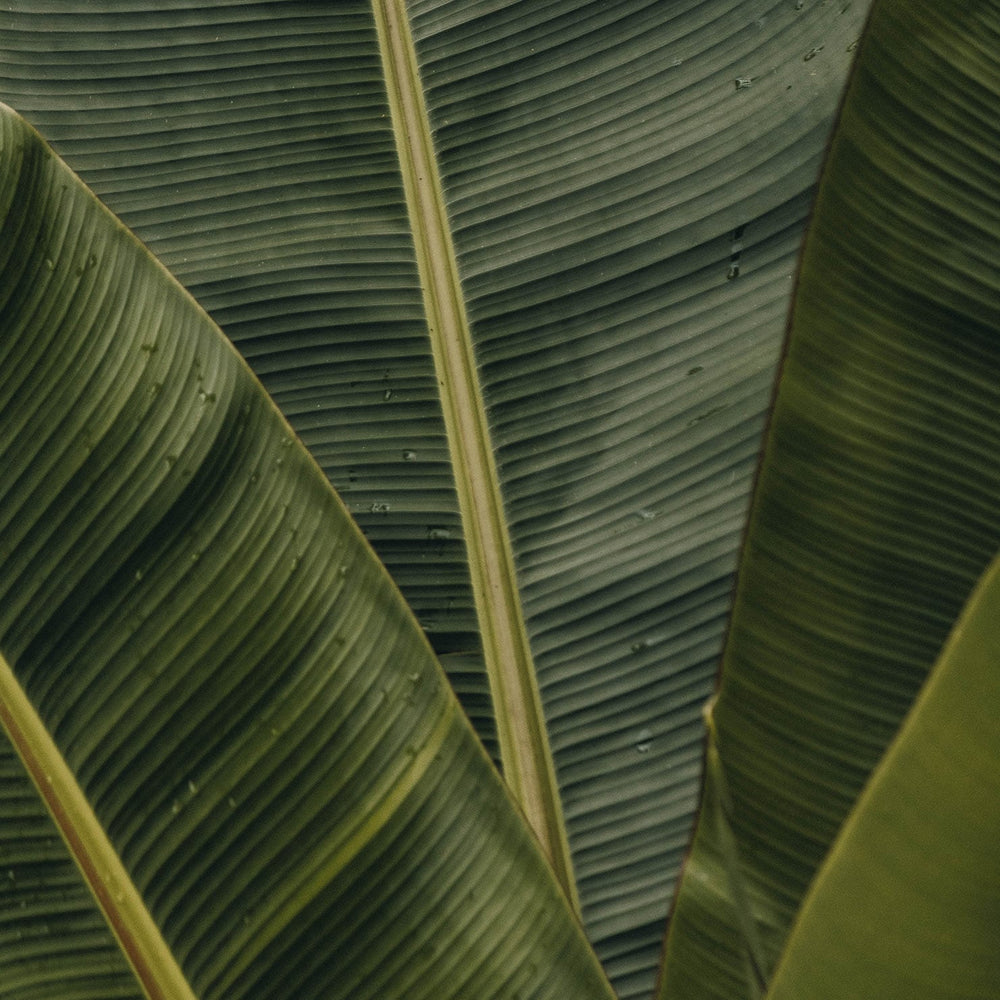 ABOUT OUR SHOES
Our shoes are certified Vegan. We went to great lengths to ensure that all components are made from non-animal ingredients, yet still maintain the quality and style expected from a luxury shoe.
For the outer material and the lining, two of the most important materials in ensuring the quality, look, feel, and longevity of our shoes, we worked with the leading manufacturer of non-leather shoe materials in Italy. Our supplier has pioneered eco-friendly, vegan materials that manage to look and feel like leather. Recently, they have invested in new, lower plastic-content materials and materials with an increased percentage of recycled content. They were also the first company to develop 100% solvent free materials (composed exclusively of water-based resins) for shoe making. They have invested in solar electricity generating panels on their production plant's rooftop, leading to a saving of more than a million kilograms of CO2eq emissions per year. They are also investing in new materials, made from renewable sources (bio-based), which have significantly reduced environmental impacts.
Our shoe boxes are of equivalent quality to any luxury shoe box you may already have in your closet; however, ours are made of paper that contains 40% post-consumer recycled waste and 15% residues of organic waste. The rest is FSC certified and GMO free paper, and is produced with EKOenergy, resulting in a 20% reduction in carbon footprint. Inside the box, you will find 100% post-consumer waste recycled tissue paper and our 100% Global Organic Textile Standard certified cotton dust bag.
ABOUT OUR MATERIALS
We use as many eco-friendly materials as possible, always ensuring that the end result is of the highest quality. We are committed to evolving our materials, with the ultimate goal to one day be able to create a shoe with zero environmental impact to begin with.
Our outer materials are made of cotton and man-made materials such as polyester, polyurethane, poly-viscose, polystyrene and nylon. We acknowledge that these synthetic alternatives have unique environmental concerns of their own, and to address this, we are working to offset the plastics used in the making of our shoes by 110% (see below "Offsetting our impact by 110%").
Our signature sea glass-colored lining contains bio polyols, elements derived from plant materials that do not divert resources necessary for food farms or animal feed, as they are made from field corn (i.e. yellow dent) produced for ethanol and for manufactured goods. Field corn is not viable for human consumption, thus its use does not have an impact on the price of edible corn. The raw material used to make bio polyols has a smaller environmental footprint than petroleum-based alternatives, saving on CO2 emissions, and is fully biodegradable. The lining also contains polyurethane partly obtained from renewable sources.
For our soles, we use Thunit®, a unique material made in Italy. According to its manufacturer, it is known as the "best alternative to leather, as it is almost identical." The flexibility, abrasion resistance, and water-resistant characteristics of this material guarantee that the performance is even better than its leather sole counterpart. Thunit® is made of 50% synthetic rubber, 40% inorganic mineral composts (silicones and mixed clay), and 10% additives (fastenings, pigments and plasticizers).
All women's heels (other than those in the Bianca platform and the Brigitte ballerina) are made of 100% recycled ABS plastic. Those with a high heel are also outfitted with a steel rod for extra support. The heel of the Bianca platform is made of 100% wood (for the back heel) and 100% EVA (for the front support). All men's and genderfluid heels are made of 80% wood and 20% TPU.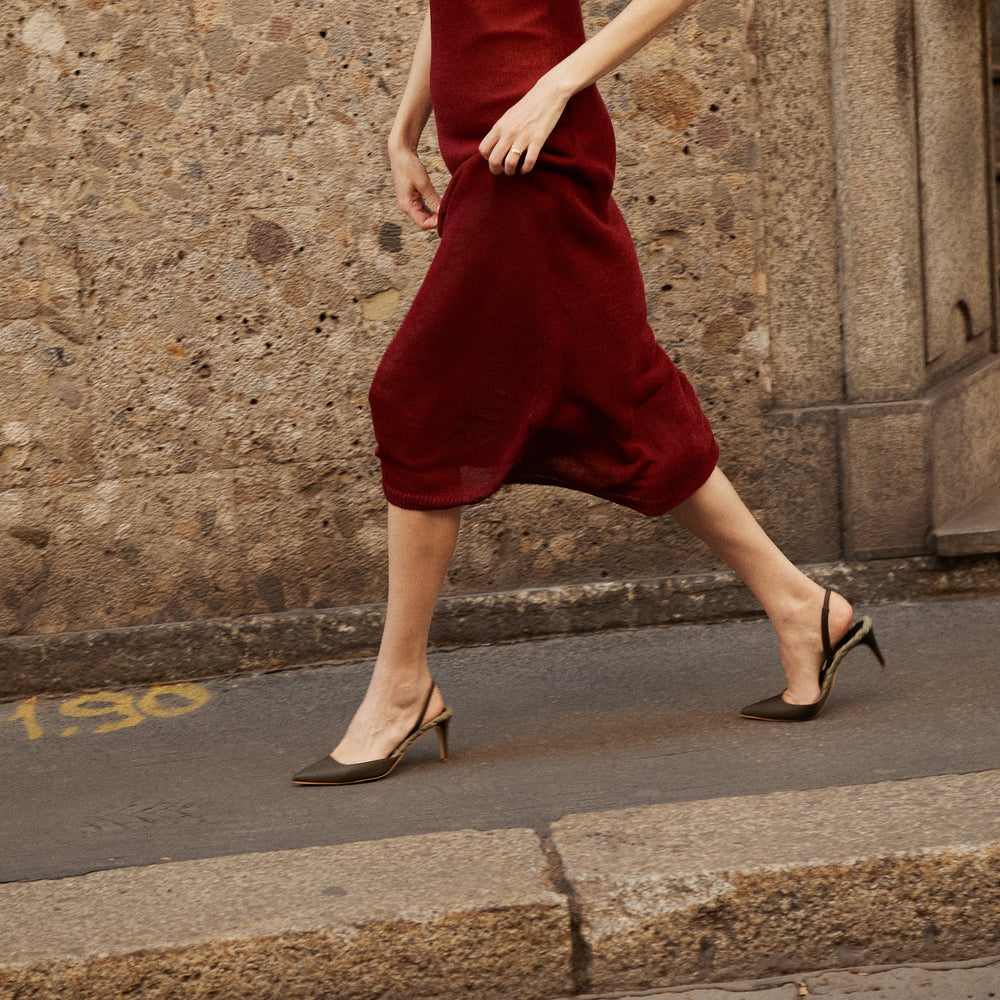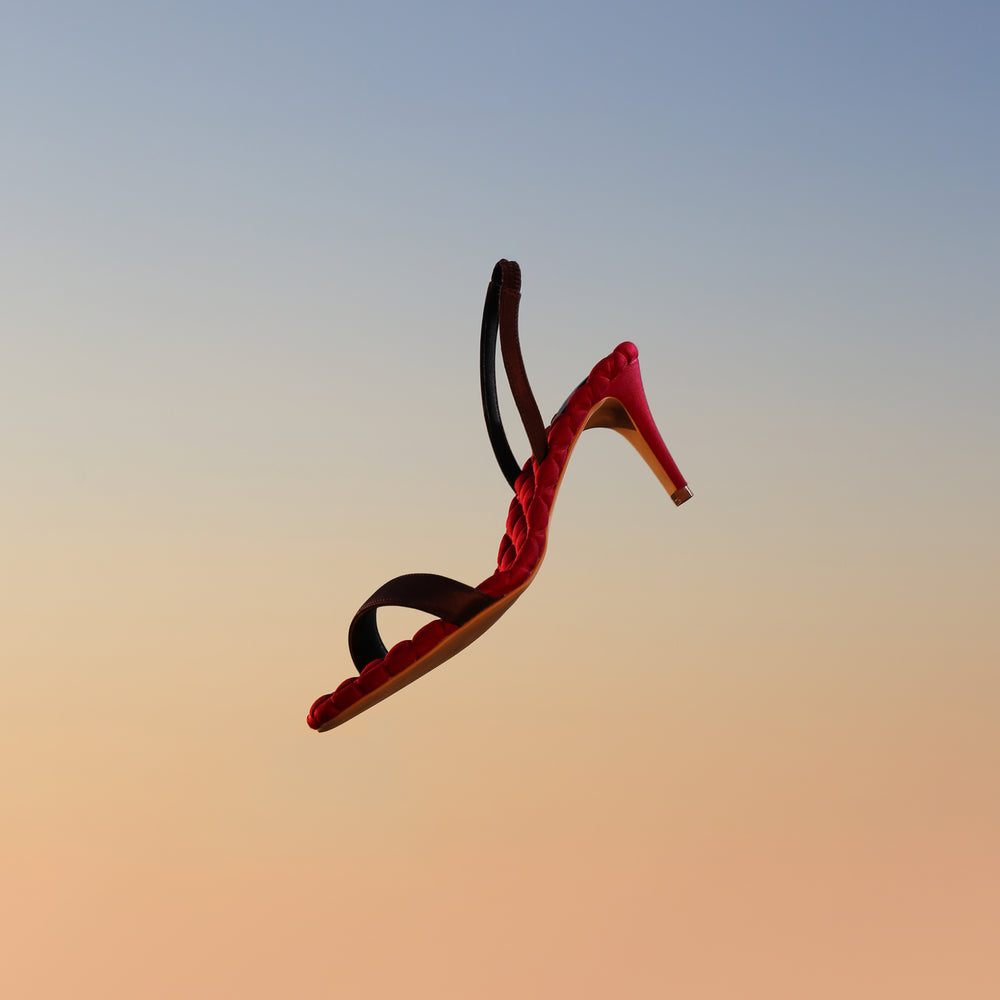 MEASURING OUR IMPACT
The next step after we make our shoes with as little environmental impact as possible, is to scientifically measure this impact, for every pair of shoes we make. We want to know exactly what the impact of each of our shoes is to the planet.
We are conscious that every shoe we make has environmental consequences associated with its lifecycle: from production, to transportation, storage, and delivery. It is our responsibility not only to take ownership of that, but also to offer a solution. So, we engaged SCS Global Services (SCS), an accredited international leader in third-party certification of environmental and sustainability claims, to ensure that the impacts made producing, transporting, storing and delivering our shoes are accurately measured and transparently presented to all.
SCS conducts "Cradle to Consumer" Life Cycle Assessment (LCA) studies on our behalf on every shoe production we make, to quantify the environmental impact of our shoes as accurately as possible. The full results of the LCA studies are available here and are also summarized in brief in the "Sustainability" section found on each product page. The LCAs measure the environmental impact of our shoes on the following categories: Global Warming Potential, Fresh Water Consumption, Ozone Depletion Potential, Acidification Potential, Eutrophication Potential, Smog Potential, Fossil Fuel Depletion and Primary Energy Demand. It is critically important to us to accurately measure the full environmental impact of our business through scientific means, as a first step in bringing our philosophy of "Good for the Planet" to life.
Our latest Impact and Environmental Performance Report provides updated metrics on our environmental footprint, strategic investments and offsets for our footprint, with additional details regarding social and community impact. Our Environmental Footprint Reduction report describes the role of different phases of production on environmental impact in the luxury footwear market, with information regarding sustainability measurement methodologies and main areas of focus for reducing our environmental impact.

OFFSETTING OUR IMPACT BY 110%
Based on the results of the LCA, we then work to offset all of our environmental impacts by 110%, and even go a step further, and invest to offset our use of plastics by 110% as well. The "110% offset" philosophy is the core of our commitment to not only neutralize the impact of our business on the planet, but to also help it heal.
With the help of the experts at SCS, we have identified meaningful offset strategies for carbon and water, and are continuing to work on finding ways to offset our other impacts. We are aware that not all environmental impacts have directly corresponding offsets, and that only carbon offsets are currently certifiable. However, we are committed to finding the right solutions and to doing as much as possible to offset all our impacts.
To date, we have invested in the following projects, always aiming to offset the environmental impacts associated with the cradle-to-consumer lifecycle of our shoes by 110%:
Global Warming Potential (GWP): we have invested in the Green Trees Reforestation project, a project that, to date, has helped to reforest 120,000 acres of marginal farmland in the Mississippi Alluvial Valley. Through this investment, we have offset the GWO of our shoes by 110%, as certified by SCS, by planting over 2,000 trees there.
Fresh Water Consumption (FW): we have offset 110% of the fresh water used in the process of making all of our shoes to date, by purchasing BEF Water Restoration Certificates©. We have invested to restore 622,000 gallons of water in critically dewatered rivers and streams in the United States. Please see here for the relevant certifications.
Our conscious decision to use all-vegan materials is part of our philosophy of not harming animals. On average, around 50% of the materials used to make our shoes are synthetic (new and recycled), and we acknowledge that these synthetic alternatives, including polyurethane, polyester, synthetic rubber, recycled ABS, PVC and others, have unique environmental concerns of their own.
Instead of just investing in the 110% offsets of our LCA impacts, listed above, we decided to also offset the plastics used in the making of our shoes by 110%. To achieve this, we have measured the amount of recycled and non-recycled plastic in all of the materials purchased to make our shoes, and have invested in Social Plastic® Collection Credits (1 SPCC = 1 kg of plastic prevented from entering the ocean and recycled) at a rate of 1.1 SPCCs for each kg of plastic used. We are working with Plastic Bank, an organization that empowers people in Haiti, the Philippines, Indonesia and other countries with significant plastic pollution issues, to earn a living by collecting plastic waste, turning it into currency and then having this plastic waste recycled and sold as Social Plastic®. Please visit their website to learn more about how SPCCs work, and how you too can contribute to this effort to prevent more plastic from entering the oceans.
We will continue updating this section as more offsets are identified, and as we make the corresponding offset investments.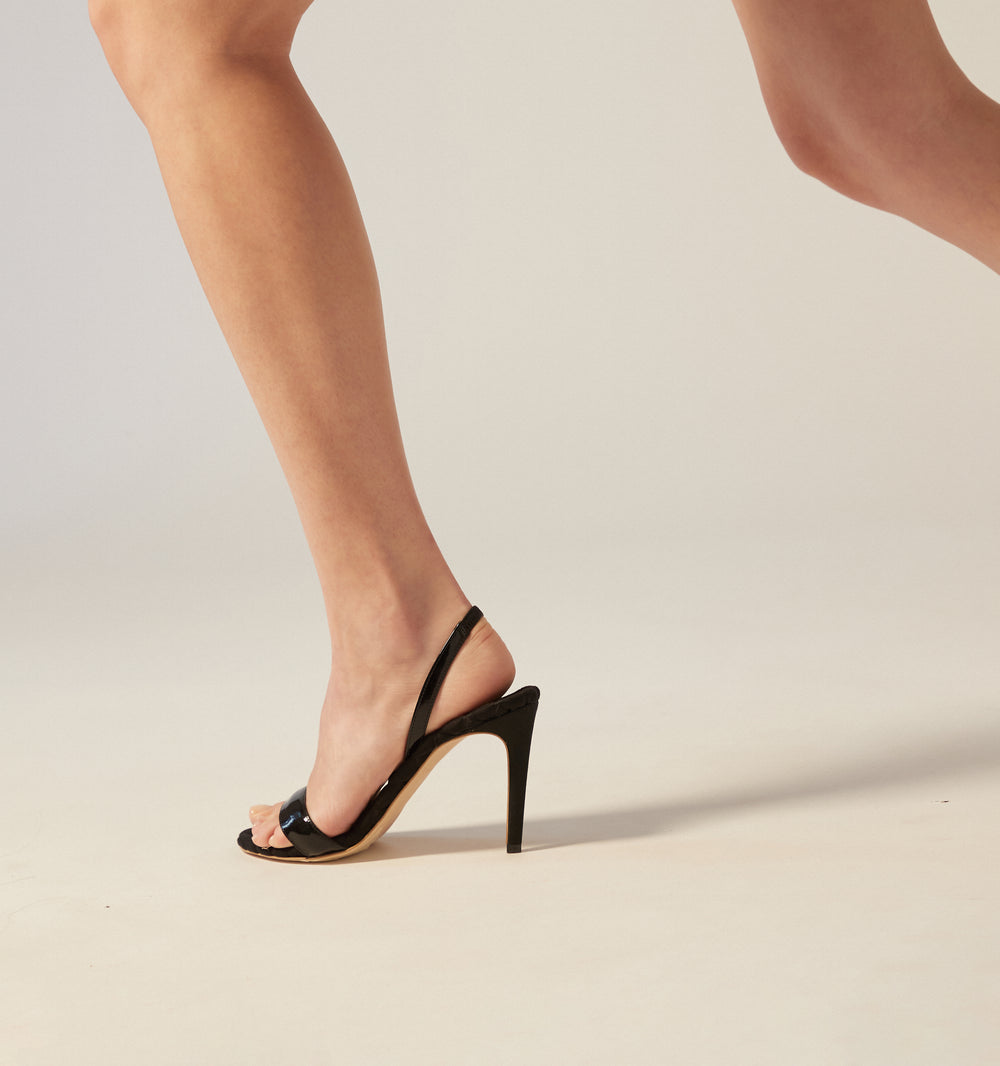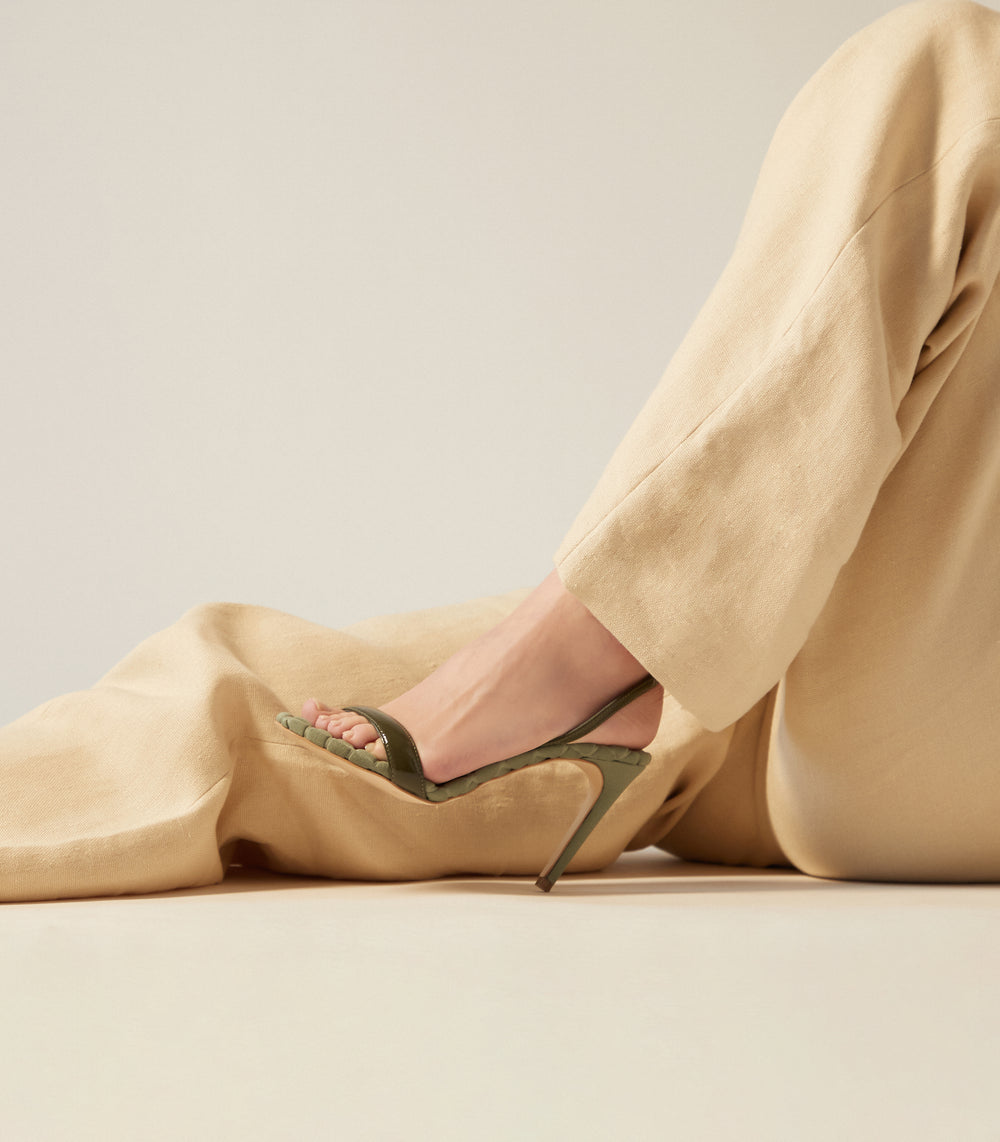 CERTIFIED B CORPORATION
AERA is B Corp certified, an important milestone in realizing the dream of creating a vegan luxury brand built upon an ethos of sustainability and responsibility for people and our shared planet. B Corps meet a set of rigorous, verified standards of social and environmental performance, transparency and accountability. In fact, AERA is the first luxury footwear company to join the B Corp ranks along with other changemakers across an array of industries.
"When we first founded AERA in 2019," explains the brand's Co-Founder and president Tina Bhojwani, "we challenged ourselves to create a footwear brand that does things differently, that sets a new standard for the fashion industry to consider. In building AERA, we've been methodical in our approach, measuring every environmental and social impact. Becoming a B Corporation is a key part of our journey in making impeccably made, luxury footwear that's manufactured with respect for the well-being of others and our shared planet."
This is a meaningful step forward in our exploration of what's possible in luxury footwear. B Corp certification marks a beginning — and not an end — for AERA's social and environmental commitment as a business.
If you would like to learn more about B Corp visit bcorporation.net.

A BUTTERFLY MARK AWARD WINNING BRAND
AERA has been awarded the Butterfly Mark by Positive Luxury, a unique trust mark presented to luxury lifestyle brands as a guarantee of their commitment to creating a positive impact.
The Butterfly Mark is awarded to luxury brands that go beyond compliance and meet the highest standards of verified innovation, social and environmental performance, offering transparency at points of sale and equipping consumers to make more informed purchasing decisions. AERA has been awarded the mark for a company-wide commitment to sustainability, including: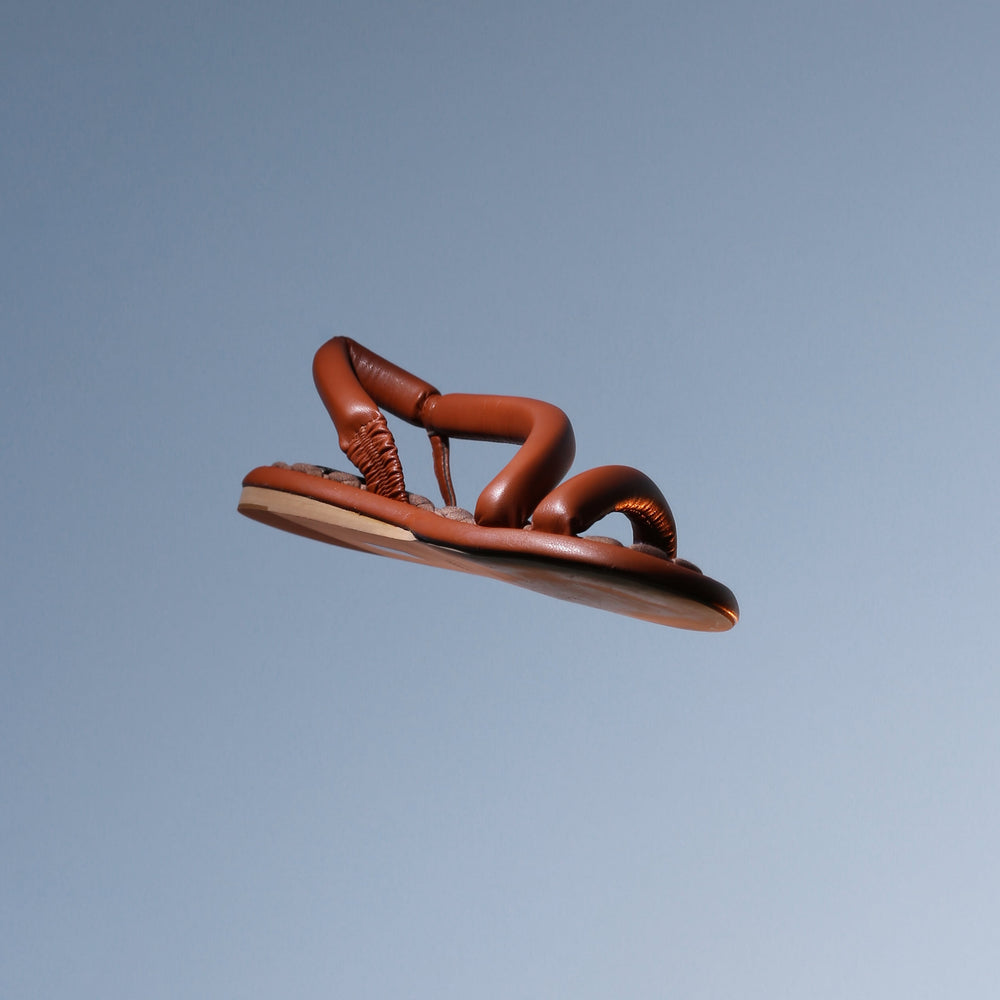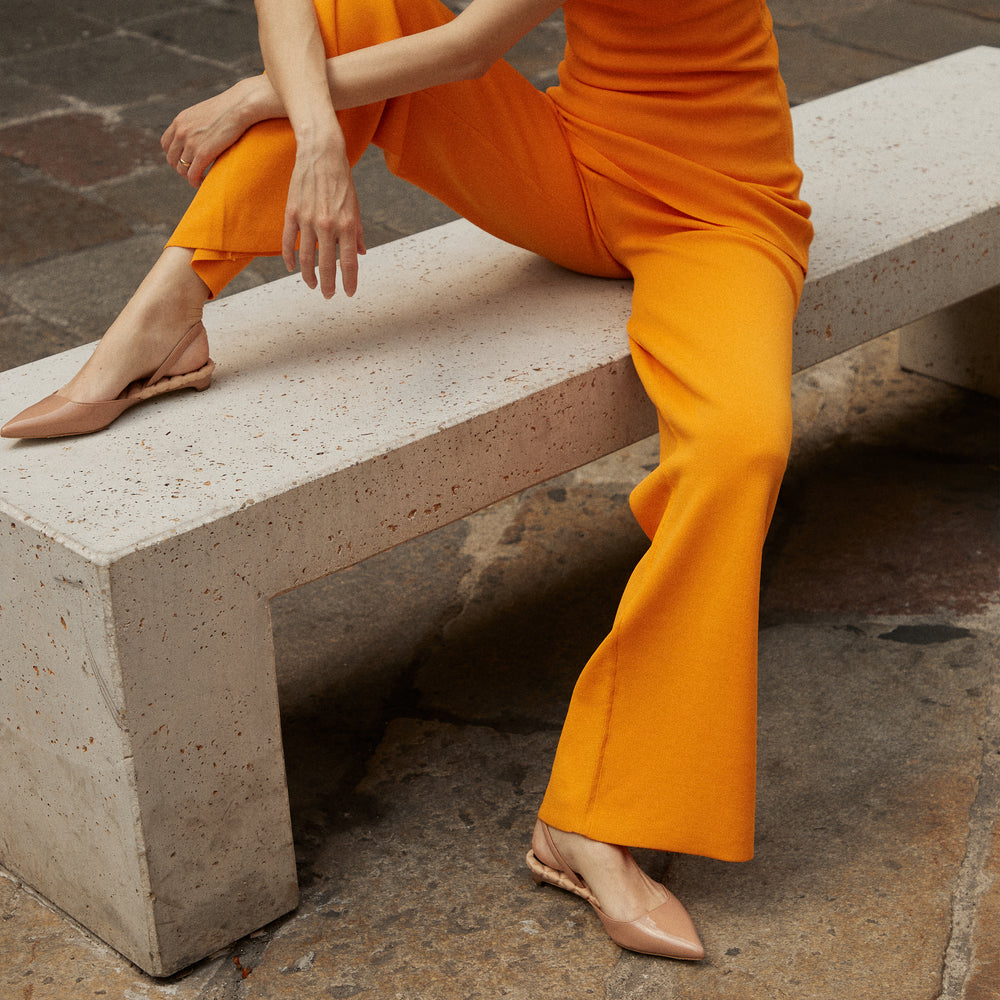 COMMITMENT TO IMPROVE
As part of our commitment to continuously decrease the impact of our shoes on the environment, we are actively seeking new solutions, such as innovations in materials, production processes, and supply chain traceability, without jeopardizing the quality, style, comfort, and fit of our shoes.
We are already working with a number of our materials suppliers and our factories in Veneto to improve the environmental impact of our materials and processes, and will update the information provided here when we make changes. We are researching new, eco-friendly materials as they become available, and will be testing them to see how they can become part of the materials list we use, always keeping in mind that we must deliver excellent quality.
Our ultimate goal is that, through these continuous improvements, we will one day be able to produce our shoes with materials and processes that have no negative impacts on the planet to begin with; we will then continue to invest in environmentally positive projects in an effort to reverse climate change.
ADDRESSING THE END-OF-LIFE OF OUR SHOES
Although we have very recently launched our brand, and our shoes are made to last for a very long time, we are already considering our End-of-Life strategy.
Given the fact that our shoes are not fully made of biodegradable material at this point, we want to ensure that when, after many years, it is time to discard them, they will find their way to a proper footwear recycling facility.
This is why we are already in discussions with potential recycling partners, and we are working to build a complete take-back program, whereby our customers will be able to, effortlessly, ship their old AERA shoes to our recycling partners. This process is being designed to impart zero cost on our customers and to the environment – through offsetting the relevant shipping impacts – and will be launched as soon as possible.